Kuzar K-8 Telescopic Lifter 6.5m 300kg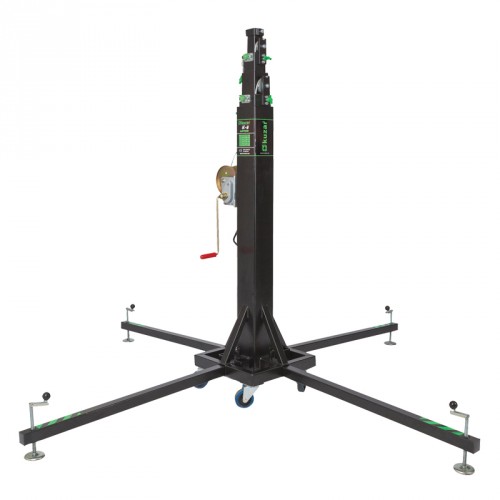 This item requires pallet shipping. Please contact us before purchase.
Manufactured in Europe to both BGV C1 and CE (2006/42/CE) standards. Designed for the professional user in the event and rental industry, the lifters feature automatic locks for increased safety. The strongest of our telescopic tower lifts, designed for lifting various types of structures and lighting systems, lifting up to 300kg and reaching a height of 6.5m. It has a robust steel base with four swivel wheels for easy transportation, composed of five telescopic steel profiles, with adjustable non-slip rubber stabilising plates on the legs.
- 2 year warranty
- Maximum load 300kg
- KAT Locks offer 2 positions: one for raising the lifter, one for locking the lifter
- High quality AL-KO winches loaded with steel cable
- Manufactured in Europe to both BGV C1 and CE (2006/42/CE) standards
- Maximum height: 6.5m
- Maximum footprint: 2.57 x 2.57m
- Adaptor fitment: 50mmØ
- Transport size: 1.87m
- Weight: 124kg