Kuzar K-31 Front Loading Lifter 220kg 6.15m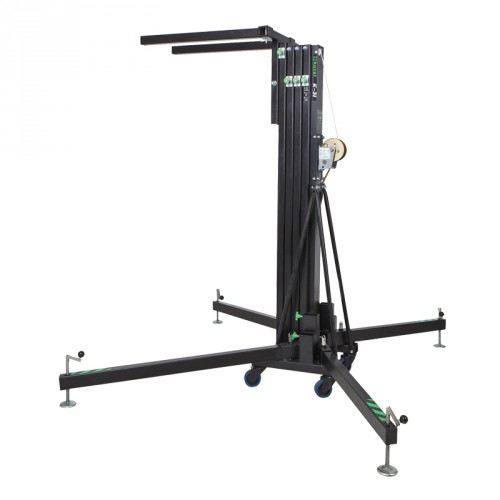 This item requires pallet shipping. Please contact us before purchase.
Designed for the professional user in the event and rental industry, the lifters feature automatic locks for increased safety. Manufactured in Europe to both BGV C1 and CE (2006/42/CE) standards, multipurpose front load lifter for both truss and line array. With a stowed height of just 1.87m it is our most compact front loader, and can be loaded into most standard height vans. The 5 aluminium sections are mounted on a robust steel base, steadied by four steel outriggers, each with a height adjustable foot. It includes the automatic 'KAT' triggers locking the sections as they rise and protecting the load in the unlikely event of cable breakage.
- 2 year warranty
- Maximum load 220kg
- KAT Locks offer 2 positions: one for raising the lifter, one for locking the lifter
- High quality AL-KO winches loaded with steel cable
- Manufactured in Europe to both BGV C1 and CE (2006/42/CE) standards
- Maximum height: 6.15m
- Maximum footprint: 1.80 x 1.69m
- Transport size: 1.87m
- Weight: 110kg