Martin RUSH Club Dual Smoke Master Pump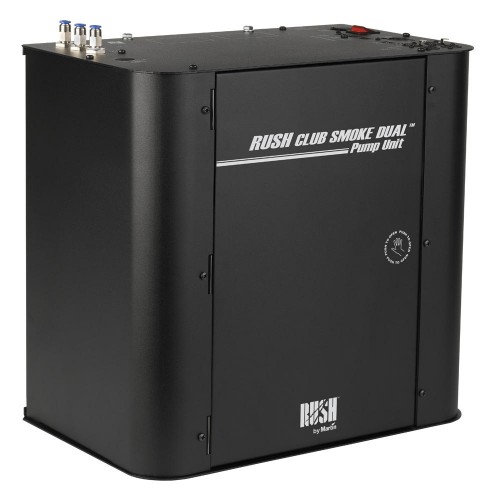 Martin Professional RUSH Club Dual Smoke Machine
The RUSH Club Smoke Dual is a brand new innovation based on the Magnum Club Smoke system, installed in prestigious venues all over the world. The RUSH Club Smoke Dual is a multi-head system which utilises up to six heads across three zones via DMX or an on-board digital display. This unique feature of the system allows the user to install either fog or haze heads, or a combination of both, using a specially formulated fluid. This mean that fluid changeover is no longer required for the desired atmospheric effect. The separate base unit, which can be installed in a convenient remote location, contains a 10-litre fluid reservoir which will ensure continuous use throughout busy nights.
Product Specifications
Physical
Length: 257 mm (10.2 in.)
Width: 415 mm (16.4 in.)
Height: 431 mm (17 in.)
Dry weight: 13.4 Kg (29.5 lbs.)
Performance
Operating time: Continuous Warm-up time (approx.): 7 minutes
Control and Programming
Control options: Onboard digital control panel with 4 digit display
Control options: Continuous or timer-controlled output, 0-100% adjustable output level
Control options: Independent Fog and Haze control
Timer range: Delay 2-99 seconds, run time 2-99 seconds
DMX channels: 4 (Individual control of Ch 1/2/3, Special Functions)
DMX compliance: USITT DMX512-A
Optional digital remote control: 92765043
Construction
Housing: Steel and aluminium
Installation
Orientation: Floor or flying kit
Ensure safety cable is used when flying
Max distance from pump unit to fog heads: 50 m (164 ft.)
Max distance from pump unit to haze heads: 10 m (32 ft.)
Max height difference between pump units and heads: 10 m (32 ft.
Connections
Power connection (Base): IEC
Power connection (Heads): Hardwired
DMX data: 3-pin and 5-pin locking XLR sockets
Remote control: 3-pin locking XLR
Firmware update: AVR socket
Electrical
AC power (EU models): 220-240 V nominal, 50/60 Hz
AC power (US models): 115-125 V nominal, 50/60 Hz
Main fuse in heads (220-240 V power): 6.3 AT/250 V
Main fuse in heads (110-120 V power): 10 AT/125 V
Main fuse in base pump unit: 3.15 AT/250 V
Typical Power and Current
Base pump unit (EU model): 180 W, 0.9 A
Base pump unit (US model): 180 W, 1.7 A
Measurements made at nominal voltage. Allow for a deviation of +/- 10%.
Thermal
Maximum ambient temperature (Ta max.): 40° C (104°F)
Exterior surface temperature, steady state, at 20°C ambient: 30°C (86°F)
Max. nozzle temperature: 290°C (554°F)